Quick Details
Classification:

Chemical Auxiliary Agent
CAS No.:

134180-76-0
Other Names:

Polyether Modified Siloxane Fluid
MF:

NO
EINECS No.:

NO
Purity:

20-35
Place of Origin:

Zhejiang, China
Type:

Adsorbent
Adsorbent Variety:

Activated Carbon
Usage:

Surfactants
Brand Name:

RS
Model Number:

RS-246
Description
Chemical name: Polyether modified siloxane fluid
CAS No.: 134180-76-0
RS-246 is polyether modified silicone surfactant with low foaming. It's an
organosilicone adjuvant, with super spread ability and penetrability, can be used as
surfactant in tank mixture with agrochemicals to improve their performance. It can
also be formulated in producing process as additive.
It's a nontoxic, environmentally friendly product, and can help farmers reduce the
using amount of fungicides, herbicides, insecticides and other plant protection
chemicals.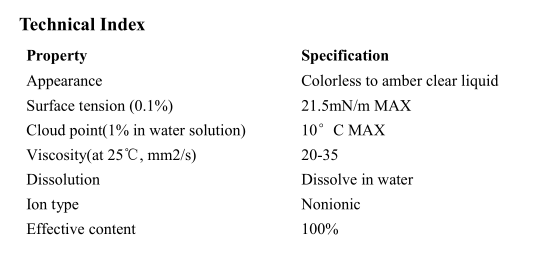 Formula:
RS-246 can be used as a component of 0.5~8% in agrochemical formulations.
Proposing of formulations PH value is 6~8. Users should adjust the usage of RS-246
according to different varieties and condition, in order to achieve the most
cost-effective results.
The tank-mix:
As a tank mix additive, RS-246 can improve spray coverage, promote absorption, and
reduce the amount of spray. When spray mixture PH is 6-8, and used within 24 hours
after preparation, RS-246 performs best.
In fact, usually 0.025% -0.1% RS-246 added in the low spray volume can achieve
sufficient coverage. Typical usage is as follows:
Plant Growth Regulator 0.025-0.05%
Herbicide 0.025-0.15%
Pesticides 0.025-0.10%
Antiseptic 0.015-0.05%
Fertilizers and trace elements 0.015-0.1%

Packing
200KG Plastic Drum
1000KG IBC Drum