Quick Details
Nau'in:

Chemical karin Agent
CAS Babu .:

2224-33-1
Sauran Names:

Vinyltri (methylethylketoxime) silane
EINECS Babu .:

218-747-8
tsarki:

95 min
Place na Origin:

Zhejiang, kasar Sin
rubuta:

Adsorbent
Adsorbent Iri-iri:

kunna Carbon
Anfani:

Rubber karin jamiái, Yadi karin jamiái, Water jiyya Chemicals
Brand Name:

RS
Model Number: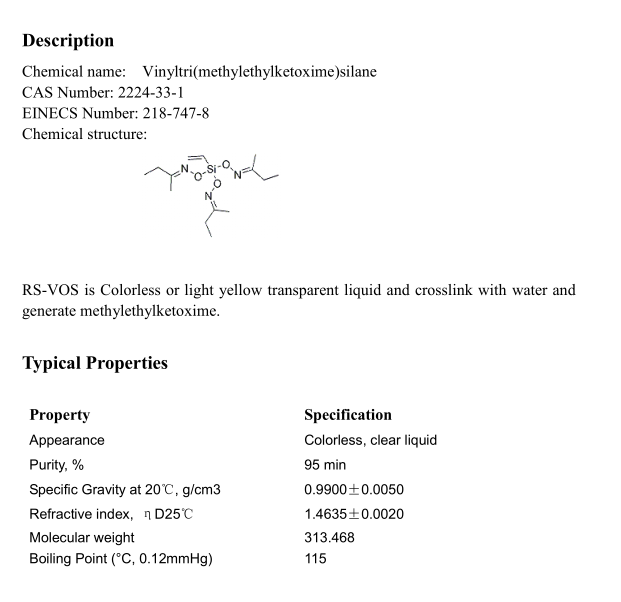 Aikace-aikace
Silane RS-Za ka can be used in variety of applications, including:
Yafi amfani da matsayin tsaka tsaki magance wakili don silicone sealant samarwa;
Amfani da wani m silane hada guda biyu wakili da kuma crosslinker.
shiryawa
210L Iron Drum: 190KG / Drum
1000L IBC Drum: 950KG / Drum
Shiryayye Life & Storage
1 Shekara idan kiyaye a cikin na asali shiryawa.
Kai matsayin da ba m da magunguna. Store a asali ganga kawai.
Ka ci gaba da ganga tam rufe da kuma store a wani sanyi, da ventilated wuri.